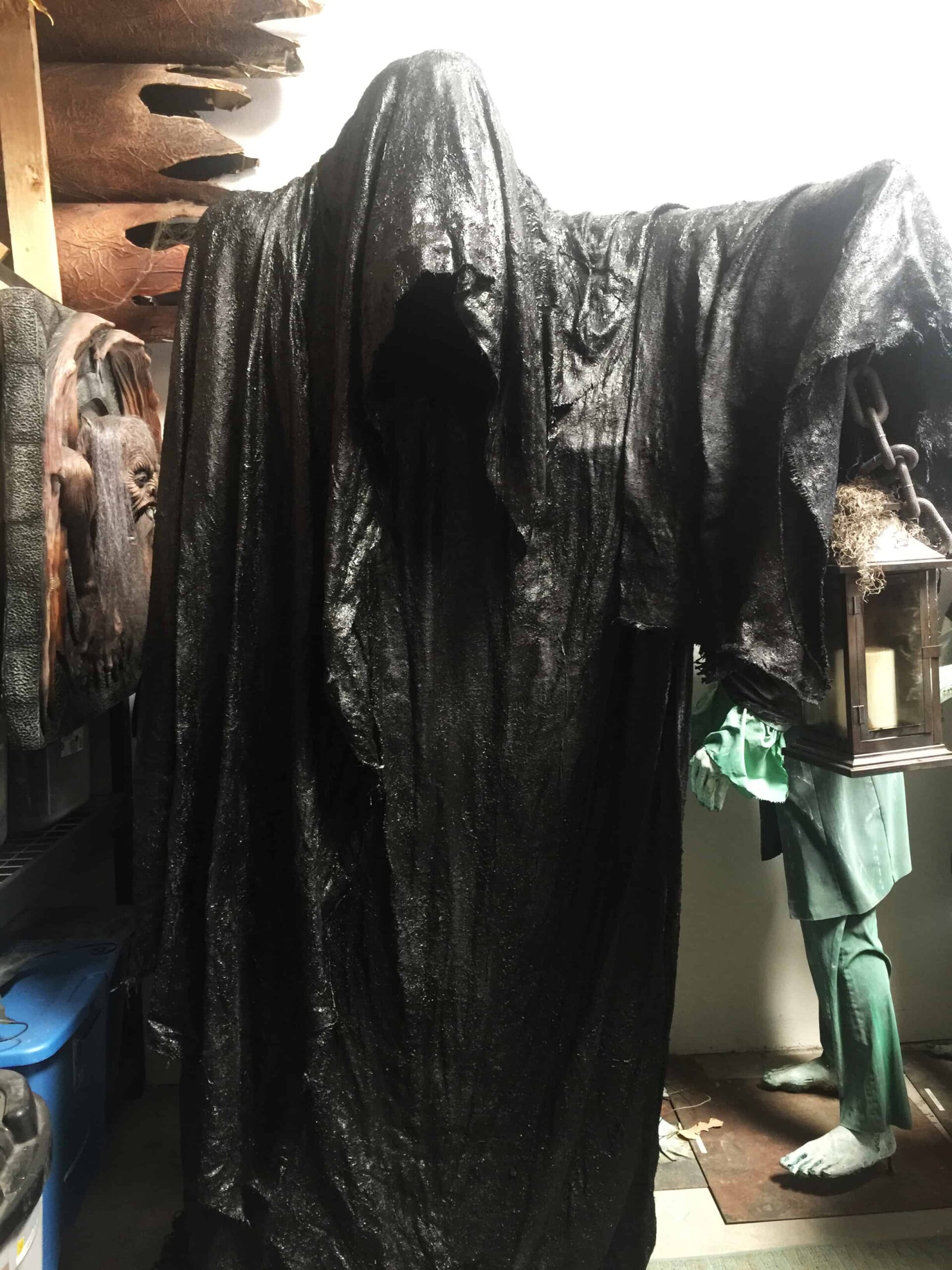 11 Jun

Monster Mad Monk

There are so many things you can make for Halloween with common items from the hardware store and they won't break the bank. I am making these 7ft tall monks to flank the left and right of a front door. I used battery powered lanterns that I got from Home Depot for $20 and I used furniture stain to dirty up the glass and added some moss and a plastic chain. I made two 7 1/2 ft tall monks, but I would start smaller if you can, due to the weight of the fabric when you drape it on. This is very messy work, so wear Painters disposable coveralls with a hood. Here is what you need for the Monk:
2- 90 degree PVC elbows

3- 45 degree PVC elbows

1- 4 way PVC cross

2- 1 1/4 to 1″ PVC adapters

1- 8ft 1 1/4″ PVC pipe

1- 1″ PVC pipe

1/4″ skrews

1 Screw in metal hanging hook (for lantern)

Chicken wire (its sharp when you work with it so use heavy gloves)

1-1/2″ steel flange

1 -1 1/2″ x 4′ steel pipe threaded

3 -STC-R brackets to brace under arm 

1-RTU2 Brackets 

1- MDF board (for stand)

Lots of burlap type fabric (a bolt if you can get it).

1 gallon black paint or any oops paint in dark color

Drywall mixing tool and a large bucket of joint compound
Attach your steel flange using screws to your board then screw your 4′ metal pipe into flange. Cut your PVC pipe to whatever height you want your monk to be, the top of the pipe will be at the shoulders. Put the 4 way pipe at the top and then attach PVC pipe for shoulders and elbow joints for the lantern arm. Put the cap on the end of the arm and screw in hook. Use the chicken wire to form the shape of the body and hood.
Next, MIX up half the joint compound and half the paint until smooth in a separate large bucket (don't try by hand – use the drill and the mixer for this).
The texture should be thick like a waffle mix. Dump into large flat pan. 
Be sure to cut all your fabric before so you can do each piece at a time.
Soak and squeeze udon and out of your fabric for the back and drape on chicken wire. Do the same for the front. I then do a small sleeve followed by a long piece for the hood. It gets really heavy, so I have a man help me with this part. 
It takes a few days to dry completely so just leave it and wait. 
I finished mine of with a semi gloss outdoor weather proof paint – that and used paint sprayer from home depot to spray apply on the monk. You can use any color you like. 
Monster mud is great for all kinds of projects you can use the chicken wire to make small ghosts coming out the ground the same way but with white paint and compound and a lighter fabric and then if you feel frisky, hit it after it dries with glow spray paint
I always let my fabric puddle a bit on the bottom and form creases in the fabric so it looks nicely draped. 
Cut out tombstones from foam insolation then paint on mud to make tombstones. 
Paint on stacked boxes taped together to make pillars. There are endless Ideas one can do with this mud for Halloween.