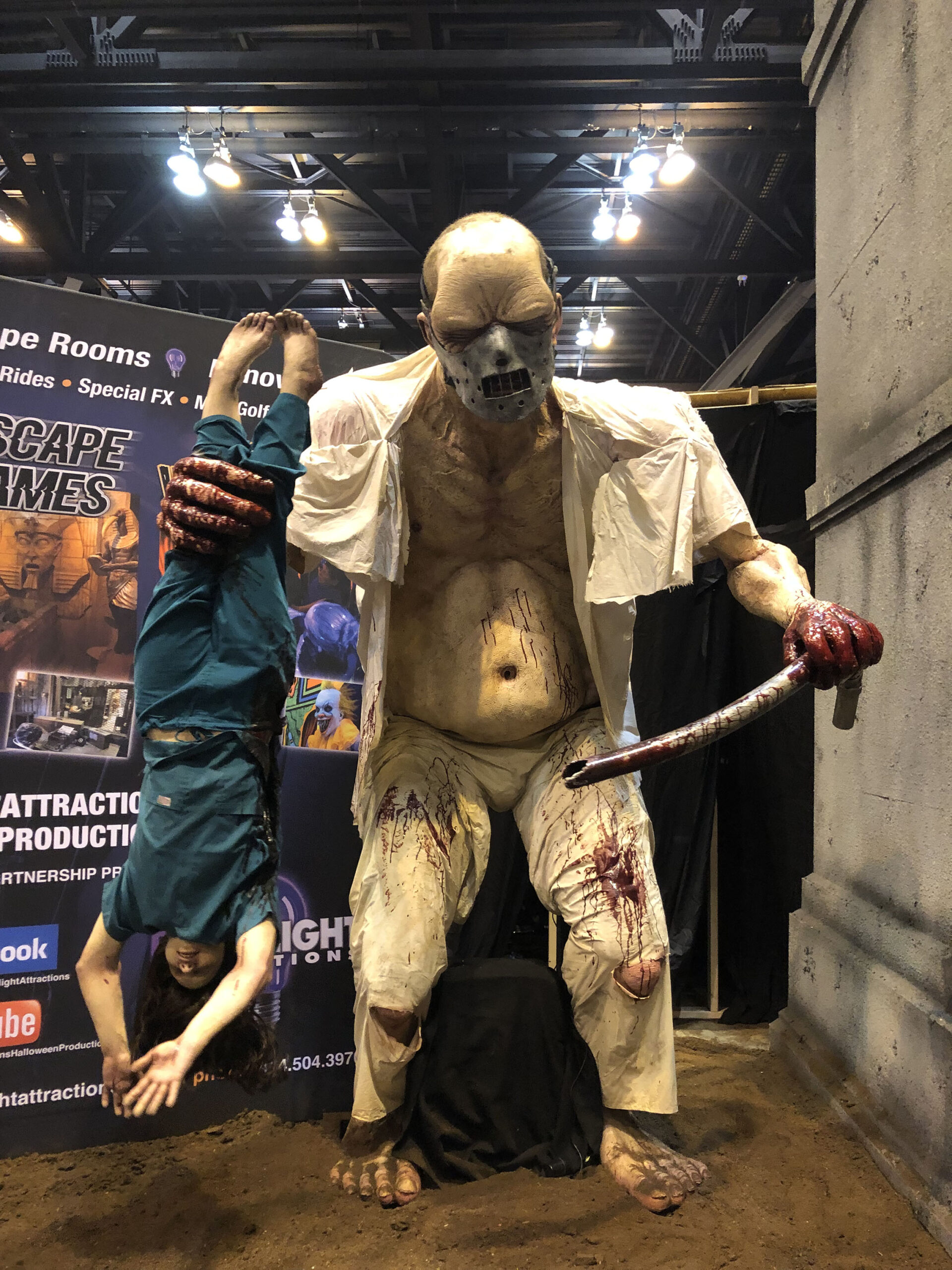 26 Mar

Haunt Convention 2019

It's that time again. The time where all the folks in the haunt industry make their way to St Louis for the annual Halloween and attractions convention; to see all the new and exciting things offered to the haunted house industry.

I placed most of my larger prop orders this year in December, as I already have a plan for my haunt and like to get my orders in early. This allows me time to concentrate on what clients may need for the upcoming season. I concentrated this year on smaller and more accent props. Rip city offered a product called chum. This is a gross concoction of what looked like bloody pieces of flesh that you could add to bodies and scenes that people can feel and touch. It really is as gross as it comes and takes things to the next level by adding something interactive.

People always seem to want to touch your props, so this is a great addition to make those who have the stomach for it cringe. Morris offered hand puppet severed heads that look as if you're holding a severed zombie head by the hair when you actually have your hand inside it, making the tongue and mouth move. They also had a nice crouching budget clown that sways back and forth in a creepy manner making it perfect for smaller spaces and for the price would make a great addition to your circus theme.

Some of the more extravagant props that I loved this year was the roving Spider that was built over a mobile scooter. You drive this by crawling into the body and sitting in the mobility chair and moving about without being seen or heard. This came at a larger price point of $7500 but is a fantastic addition if you have a large open area to drive it around for folks to take pictures with.

Scarefactory had HUGE oversized photo op skeletons that would look great at the entrance of your house or haunt.

Clowns always have a place and the Ice cream cart was a great piece for an actor to roll around and with the push of a button, a clown pops out of the inside; lunging at folks for a nice jump scare.

Gross food items are always fun to adorn any table top and there were plenty of those around this year. From pots of eye balls and body parts to a full meal setting for 6 (from Ghostride) with soup and plates of nasty items that will surely turn your stomach.

Forges fog came out with a ground fogger that is fully contained and uses no ice. This hooks up to a hose that will output enough fog for easily 4 to 6 hours before needing to be refilled. You can control the humidity on it, making it easy to operate and lets you choose how heavy or light you want your graveyard fog to be.

I always seem to find something new and exciting at this show and it gets my creative juices flowing and gives me fantastic ideas to add to the scenes I already have planned in my head.